AmeriTech College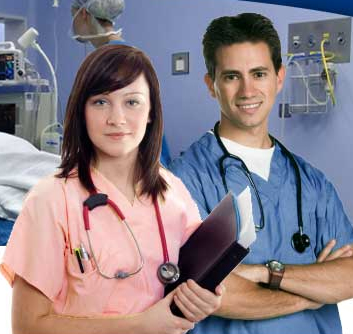 Questions? Fill out the form below to get answers.
Fast. Affordable. Accredited. Go from the classroom to a healthcare career – with AmeriTech College.
The demand for skilled health care workers shows no signs of slowing. Experts predict that healthcare will generate 3 million new jobs between 2010 and 2020-outpacing every other industry. *
At AmeriTech, we're more than just a school. We're a collection of healthcare experts whose mission is to pass the torch to the next generation of great healthcare professionals. Our approach is simple. We assemble some of the most skilled experts in the industry to provide hands-on training with an emphasis on real-world experience. As a result, you will graduate with the confidence and the knowledge it takes to enter the workforce, excel, and advance.
Since 1979, AmeriTech College has successfully prepared students for rewarding opportunities in the healthcare industry. All we do is healthcare – and we do it well.
At AmeriTech College, we offer the following career programs:**
Dental Lab Technician
Help patient's look and feel their best by hand-crafting crowns, bridges, dentures, and other dental appliances.
Medical Assistant
Complete both administrative and clinical duties in one of the fastest growing sectors of the healthcare industry.
Nursing
Provide and coordinate patient care, education, advice, and emotional support to patients and their family members.
Financial aid and scholarship opportunities are available for those who qualify.
As an AmeriTech graduate, you'll also enjoy Career Placement Assistance. Employers are looking for qualified healthcare professionals, so the time to get the training you need to secure your career future is now.
For additional details, fill out and submit the information request form.
AmeriTech College is institutionally accredited by The Accrediting Bureau of Health Education Schools (ABHES) ABHES is listed by the U.S. Department of Education as a nationally-recognized accrediting agency under the provision of Chapter 33, Title 38 of the U.S. Code and subsequent legislation. ABHES provides AmeriTech College institutional accreditation for the delivery of diploma, Associate of Applied Science Degree and Baccalaureate level degree programs.
*SOURCE: Bureau of Labor Statistics, U.S. Department of Labor, Career Guide to Industries.
**Programs vary by campus location.
Programs Available at AmeriTech College:
Dental Laboratory Technician - Diploma


AmeriTech College's Dental Laboratory Technician program is a 45 week program offered at the Draper campus which teaches our students the art of creating crowns and bridges. There is an increased demand for dental work which is providing great opportunities for talented Dental Lab Technicians. Dental Lab Technicians are artistic, self-motivated, and work in a thriving industry that provides unlimited growth potential. Some will even progress to own their own laboratories.



Medical Assistant - Diploma


AmeriTech College offers a 34 week program at our Provo campus. This course will provide students with comprehensive training in performing entry-level skills in medical offices and clinics. The curriculum includes training in a wide variety of competency-based skills for both clinical and administrative areas necessary for assisting the physician in his/her practice.



Nursing - Associates


AmeriTech College offers an RN program that prepares students for an Associate Degree of Applied Science in Nursing which enables graduates to apply for the NCLEX exam for registered nursing.

Students spend a portion of their time in clinical training in local hospitals and other facilities. This training gives real-life experience gained from working with health care professionals and is an invaluable aid for our students. AmeriTech College also utilizes a Meti Human Patient Simulator. This simulator will give our students experience in true-to-life scenarios and immediate patient feedback simulating a patient's response to various treatments.




AmeriTech College Campuses:
Draper


The Draper Campus is located in the Business Park Complex. The instructional classrooms, campus admissions and financial aid areas are divided between three separate spaces in a two-story commercial building. The campus occupies approximately 26,000 square feet of well-lighted, air-conditioned space.

Provo


The Provo Main Campus is located in the Parkway Village Complex. The campus occupies approximately 7,000 square feet of well-lighted, air-conditioned classrooms and supporting facilities.